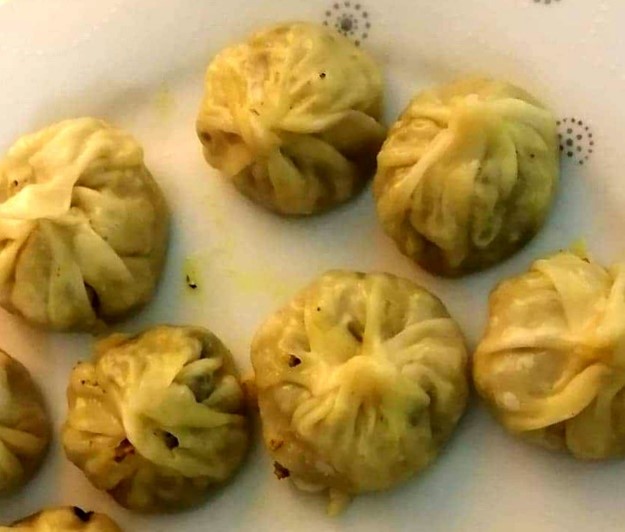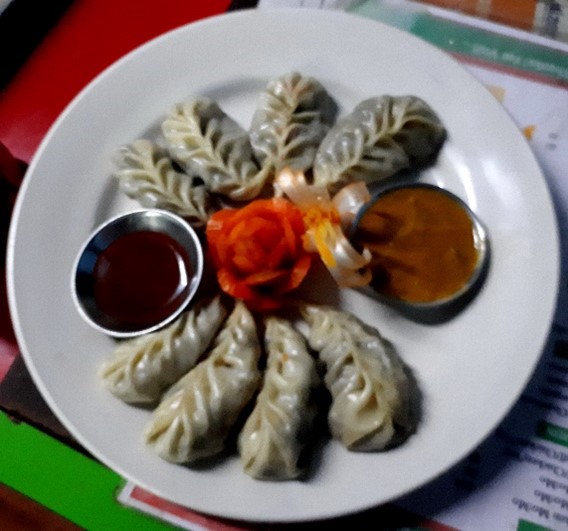 Main ingredient:
This dish has multiple main ingredients, rather than one or two main ingredients. We recommend for this dish's ingredients information that you visit our Ingredients & Nutrients page, to learn more about the health-related aspects of the dish's individual ingredients.
Momos (also often written as Mo-Mo or MoMo, or Mo.Mo) can be presented steamed, fried, or in a soup broth (vegetarian or meat)
---
Taste description & background:
Momos (Nepali dumplings) can perhaps be described as the ultimate Nepali hot snack of a substantial kind. Whether a meat or a wholly vegetarian type, Momos have multiple fillings artfully blended together and with great nutritious value, and constituting a hot meal. They are however not complete without the distinctive accompanying Tomato Pickle (Golbeedaa Achar) which gives a different type of piquancy to that of the filling of the dumpling – the pickle with the MoMo makes for a truly delicious combination.
Apart from some of the ingredients (such as Paneer being able to be used as one of a number of vegetarian variants, and certain of the spices too), which make the MoMo fillings, the main difference between them and Chinese dumplings (particularly Beijing Jiaozi, and Shanghai Jiaozi) is found in the Tomato Pickle, which itself comprises multiple ingredients (the Chinese equivalents are soy sauce [often including chopped chilis], sometimes vinegar, and most commonly, Chili oil.
The history is unclear on the actual origin of Nepali MoMos. The similarity with Chinese dumplings is clear and both these and MoMos belong to the same culinary concept and heritage of a tasty nutritious dumpling that can also easily be eaten on the move. It is thought that Tibetan dumplings may be the origin of the distinctive Nepali MoMo, and it that it was from Lhasa via almost certainly the Sherpa people of the Tibetan Plateau and northern Himalayas that the snack came into Kathmandu Valley and entered South Asian and Nepali gastronomic history, especially through the creation of the Tomato Achar/Pickle.
Quantity: Serves 2 people, to have 10 – 12 momos each or 4 people having 5 to 6 each
Time taken on creating dish: to prepare and cook takes about 1 hour 20 minutes, an hour to prepare and 20 minutes to cook.
---
Utensils needed:
Chopping board for dicing/chopping the fillings
Bowl for preparing the dough
Bowl for mixing the filing
Knives
Rolling pin
Steamer
Pan for boiling water for the steamer to be placed on top of
Frying pan
---
Ingredients:
Rice flour (Maida), or ordinary flour —
Chopped onion (brown cooking onions): 1.5 onions
Spring onions: 50g
Fresh chopped Coriander (30g)
Sweetheart cabbage (whole)
Chopped fresh Ginger or Ginger paste
Chopped fresh Garlic or Garlic paste
Soy Sauce: a taste
Masala: a taste
Salt to taste
Fresh green Chilli: 2.5 (whole, chopped)
Water
Chopped Paneer (an addition to all of the above as a main item to give Paneer taste; substitution of paneer in place of cabbage gives a further taste variation): 400g
---
Method:
There are three stages to momo creation: making the dough and preparing this for the momo cases. The momo filling. Steaming and/or frying (the latter for fried momos, known as momo kothey.
Preparing the dough and cases:
Decide how large you wish your momos to be in order to use the correct amount of flour., then combine the later with water, some salt and a little oil in a bowl, and kneed for about 10 – 15 minutes until the dough is uniform in consistency. You then cover in the bowl and leave for about half an hour. You are then ready to make the wrappers which should be about 3 inches in diameter, and prior to preparing should kneed the dough afresh.
Each momo case will be circular (although can also be elliptical for the crescent-shaped momos) and should start as a dough ball an inch in diameter. On the board flatten within your hand until you have a lense-shaped piece of dough about 2 inches in diameter: make a few of these, and again cover. After this you flatten into a circle with a rolling pin until about 3 inches in diameter and thinner on the outer edge — this is important for once the filling goes in this has to be held on/in the thicker main part, but the outer edge thin to be crimped together (using a little water where required) so that the join is finer and not too thick.
Fillings preparation:
All the ingredients are chopped fine, and in the case of the paneer option, the paneer is cut into very small pieces. In a large bowl combine all filling ingredients. Stir well, adjust for seasoning with salt and pepper. Cover and allow at least half an hour to mix and impart their unique flavors completely.
Steaming:
Add the filling in the middle of the momo case, and crimp the outer edges together. Place on steamer trays with an even space around each momo, and steam for about 15 minutes checking after 10 – 12 minutes on how steamed and soft the momos are by pricking with a sharp knife. When all soft, remove and serve on plate with an accompaniment of tomato achar.
Frying / Kothey:
If frying your momos (Kothey variant) steam for about 5 – 7 minutes and then transfer to a frying pan with heated 3-4 tablespoons of oil, and turn occasionally and keep a lid on the pan to enable enable even cooking from inside to out of the momo. It should be complete when sides of the momo, and especially the base are largely a light golden brown.
---
Accompaniment(s):
Golbeedaa Achar (spiced tomato): 
Tomato Chili
---
MoMo Soup: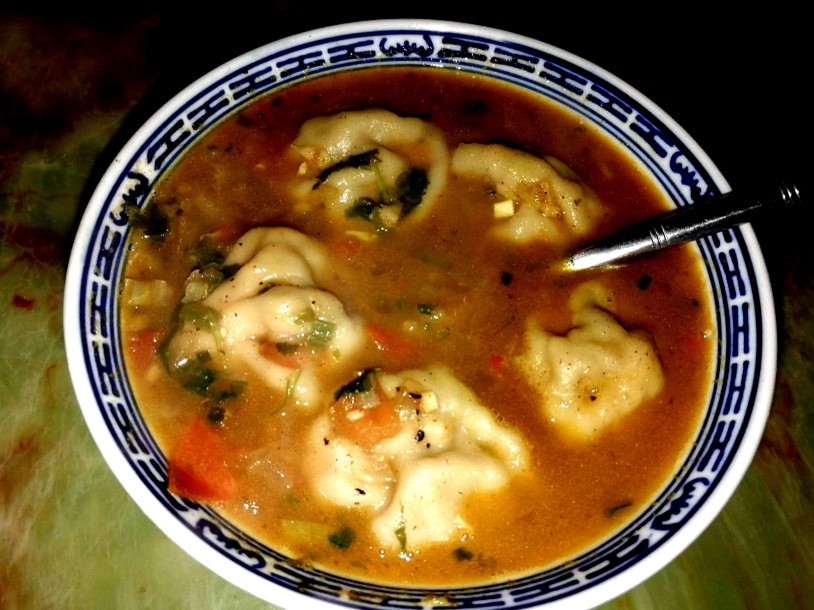 The ingredients are the same as above, but with the addition of the stock, which is essentially that which is used for Sherpa vegetable soup.