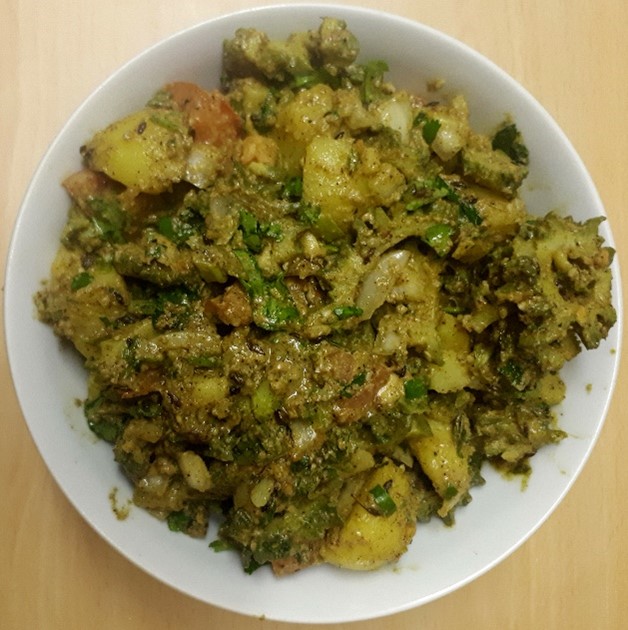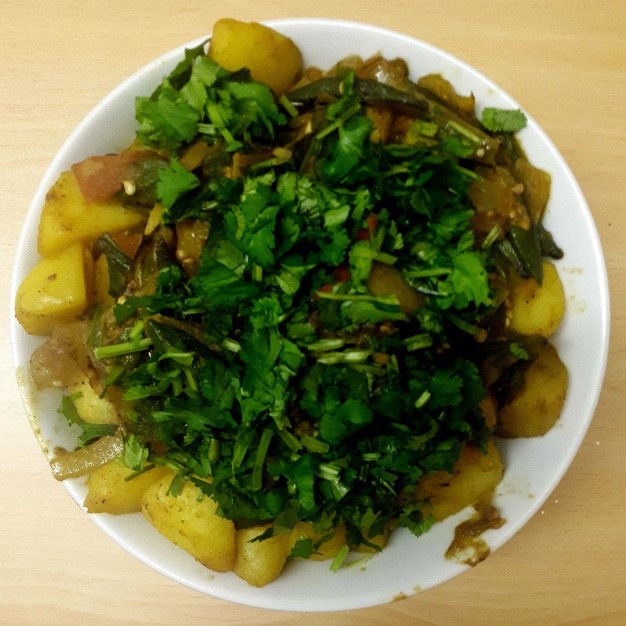 Main ingredients: This dish has multiple main ingredients, rather than one or two main ingredients.  We recommend for this dish's ingredients information that you visit our Ingredients & Nutrients page, to learn more about the health-related aspects of the dish's individual ingredients.
---
Taste description & background :
This is Nepal's most famous main course dish (also in its Hindustani and Bangladeshi variants famous in neighbouring India and Bangladesh), and almost invariably provided with dal – bhat, but can also be ideal with just rice and tomato achar and perhaps saag (spinach) to accompany. Filling, it has great taste, and my version features firm pieces of potato and concentrates on moistness rather than stock and sauce; in this way the distinct taste of main and minor ingredients, have their flavours perfectly conveyed and with a mild spiciness of the seasoning, which can be heightened by additional fine chopped chilis being incorporated. I learned the dish at my family home in Dadeldura, and have since experimented with some secondary and tertiary ingredients (such as adding some kherau/peas). Elsewhere I provide other main variants of the dish, such as egg (more stock with this type), chickpeas, paneer, which constitute separate types of curry.
Quantity: Serves 2 people
Time taken on creating dish: to prepare and cook takes about 35 – 45 minutes.
---
Utensils:
Chopping board
Frying pan
Bowls
Knives
Spatula or wooden cooking spoon for stirring
Ingredients:
¾ kilo of potatoes (boiled but not soft)
2 – 2.5 tablespoons of oil (Vegetable or Extra Virgin)
2 – 2.5 chopped medium-size tomatoes
2 finely chopped brown onions
Broccoli – spears of broccoli
Cauliflower – a quarter
Half to three-quarters of a cup of peas (optional)
Half to three-quarters of a cup of broad beans (optional)
2 large carrots, chopped (optional)
A teaspoon of freshly, finely chopped cumin
A teaspoon of finely chopped fresh ginger
3 – 4 cloves of finely chopped fresh garlic
Cumin powder
Coriander powder
½ a tablespoon of turmeric
Cloves (optional)
Some green cardamon
2 – 2.5 tablespoons of oil (Vegetable or Extra Virgin)
Salt – to taste
Chilli powder – a sprinkle
Fresh chopped Coriander (Dhania)
---
Method:
Heat the cooking oil (be sparing with this: just enough only, Not more) in a frying pan on medium heat. Then add chopped brown onion, cook and stir gently until these are soft and transparent. Add the garlic and ginger and cook for 1-2 minutes, not allowing these two important ingredients to go brown. After this you put in cumin, coriander, turmeric and mix these together. After this you add your main vegetables (chopped firm potatoes, cauliflower, broccoli, and chopped tomatoes) combining these in the seasoning and spices; then add a little salt (taste some of the dish first to get just the right amount of salt) coated in spices.
Then you put the frying pan lid on and simmer on a low heat until the vegetables are cooked; you need to stir occasionally so that you make sure ingredients aren't stuck to the bottom of the frying pan, but you can add a little water throughout as required, and depending on how much stock (which you will need to reduce as much or as little as you desire) you prefer to have – or not have – with the curry. Some variants of this classic dish (such as with egg, chicken, or fish) require more stock, but my version is designed to have all-important moistness but do without stock so the seasoned vegetables are the main focus of the palate; dal which is commonly served with this dish provides all the liquid you should need, keeping the main dish, the tarkari itself clean in how its vegetable ingredients taste.
You can garnish with fresh chopped coriander, add a squeeze of lemon if you prefer, but this can best be saved for the dal (lentil soup) accompaniment of the dal – bhat dish to the vegetable tarkari main course; cooked & seasoned saag (spinach), and golbeedaa achar / tomato spicy pickle are commonly available to add to this famous Nepali curry.
---
Accompaniments:
Boiled rice
Chili achar
Gundruk