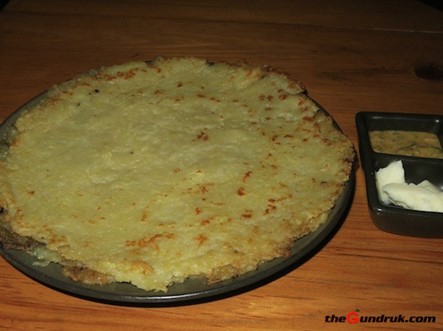 Main ingredients: potato and egg are the main ingredients for this dish.  Potatoes are a major source of potassium (higher concentrations than in bananas) and vitamin C; they are cholesterol-free, and fat and sodium free, are carbohydrate-rich, and an excellent source of vitamin C.  Eggs are a source of high-quality protein, riboflavin and selenium (mainly egg white), with highest concentrations of nutrients (particularly Vitamin D) found in the yolk. 
---
Taste description & background:
Riki Kur is one of our Sherpa communities main traditional dishes back in Nepal, but we enjoy it here in Britain too, especially when we gather together as a community at our homes. It is filling and gives energy, and is really tasty; great for winter weather in the UK as much as the Himalayan climate. It is a mainstay Sherpa food enjoyed for centuries and its recipe, as with the accompanying Yak cheese & spring onion achar / pickle, which we use with other traditional dishes too; the cheese, chili, and spring onion complement the pancake's taste, with its blend of potato and butter, itself so well.
I first enjoyed it as a very young child, learning from my mother soon after in the family kitchen. 
I feel since that time long ago, and settling in the UK, and learning a little about traditional British foods, that there are at least in the Riki Kur itself, some similarities with aspects of Scottish food, and that maybe we can say that terrain and climate do have some influence on the types of food different peoples develop as distinctive to their nutrition needs relating to the lands they live in.
Quantity: Serves 6 people for one occasion, with large portion.
Time taken on creating dish: to prepare (potatoes being already boiled) and cook takes about 35 to 40 minutes
---
Utensils:
Frying pan
Saucepan or ceramic bowl for mixing
Grater
Whisk
Cookery wooden spoon or spatula
---
Ingredients:
5 Kg of potatoes
A cup of
3 – 4 eggs
A pat of butter (ghee if you can); particularly for achar accompaniment to ease spreading
Some butter or oil for cooking
A pinch of salt — to taste
Ingredients of accompanying cheese & spring onion pickle / achar
75 – 100 grammes of green birds eye chilies
100 – 125 grammes of fresh spring onions
About 100 – 125 grammes of Yak cheese or Sour cream
A pinch of salt — to taste
---
Method:
Boil potatoes, removing their skins. Then use a grater (or electric blender) to mash the potato to an even pulp in a bowl, and then incorporate flour, and then the eggs, adding salt to taste; you can also add in a little butter if you wish. After this you heat butter or oil in your frying pan, and cook on medium heat; then add the batter making sure the quantity is not thin (you can the remaining batter after you have finished frying the first pancake) and covers the base of the pan evenly.
Turn, and turn again if needed until your Sherpa potato pancake is cooked through and an even gold colour on the outside. This completes the main dish. However, to finish your Riki Kur you need to make the accompanying Yak's cheese (you can use sour cheese as an alternative) and spring onion pickle / achar.
To make this classic Sherpa achar, you finely slice green birds eye chilies, chop up the spring onions and dice the cheese and mix finely, and then blend these three ingredients together with some butter.  You can now serve this famous Sherpa pickle with the potato pancake, by placing with your wooden cooking spoon the achar across the top of the pancake whilst still warm. 
---
Accompaniments:
Yak Cheese (Sour Cheese as alternative) and Spring Onion Pickle / Achar