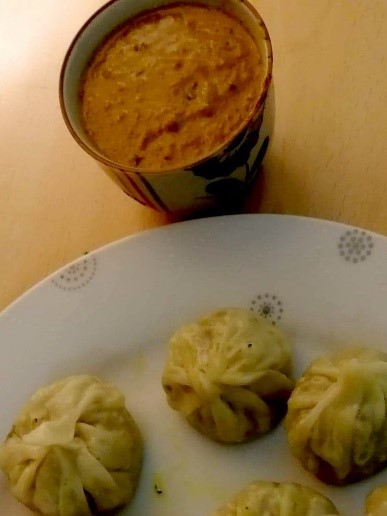 Main ingredient: these dish's main ingredient is Golbedaa/Tomato, and at a secondary level Chilis. Tomatoes are a major source of vitamin C, vitamin K1, folate (vitamin B9), potassium, and a substantial source of lycopene (an antioxidant that assists with dieting). Regular consumption of tomatoes are said to reduce risks of cancer and heart disease. 
Birds Eye Chilis (khursanii) Chilis contain large quantities of vitamin C (especially red chilis), vitamin B6, provitamin A beta-carotene.  Chilis originated from Mexico and Central America, and spread through Portuguese merchants, to Asia where they quickly became a major ingredient in South and East Asian cuisines, particularly in curry dishes: in Nepal, India, China and other Asian lands, homes commonly keep a good stock of fresh green finger chilis.
---
Taste description & background:
The classic accompaniment (pictured in the top section of the image above) to Momos and Dal Bhat Tarkari. I learned how to make this classic Nepali fiery sauce when in my mid-teens, in the setting of the family home kitchen. It is most famous as THE essential accompaniment to momos, making the latter particularly distinct from Chinese dumplings; yet it is a fantastic, piquant accompaniment to dal bhat tarkari and other boiled rice Nepali dishes.
Quantity: Serves 2 people two times, or four people for one occasion.
Time taken on creating dish: to prepare and cook takes about 30 minutes.
---
Utensils:
Pan
Motar & Pestle / electric blender
Spatula
Bowl
---
Ingredients:
8 – 10 chopped cherry tomatoes (cherry tomatoes more effective than normal/salad tomatoes)
¾ – ½ of a large brown chopped onion – finely chopped
Cumin
Cumin powder
2cm x 2cm of finely chopped fresh Ginger
3-4 cloves of finely chopped fresh Garlic
Chopped green hot / Bird Eye Chilli
Fresh Coriander – finely chopped and ground
Fenugreek seeds
Thyme seeds (optional)
Coriander powder
3-4 Spring Onions
Chilli powder
Salt – to taste
½ to ¾ of Lemon
2 tablespoons of Oil (Vegetable or Extra Virgin)
White Sesame Seeds
½ to ¾ tablespoon of Turmeric
Finely chopped Szechuan Red Pepper
---
Method:
Wash and cut tomatoes into halves & quarters, and finely chop onion, mixing together. Prepare all of the other ingredients through finely chopping (ginger and garlic) and use a mortar & pestle (or electric blender for quicker results) to make into a smooth pulp.
Heat a frying pan then add oil, when pan is hot, add fenugreek seeds (and thyme seed if used); when these have browned, pour in the puree of onion and tomato, and the spices pulp, add water and fresh chilies and turmeric and salt.
Let this reduce and stir and add in freshly squeezed lemon at the end. The achar is ready when its consistency is smooth and sauce-like and should be a pleasant reddish orange in colour.