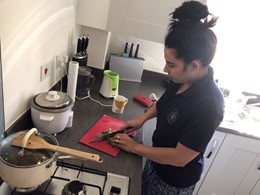 Main ingredient: the dish's main ingredient is chicken, but is a meal that has multiple secondary ingredients so for these please see our ingredients section.  Chicken provides much greater protein density than red meats and is a good source of creatine (this is produced naturally by the human body and is a compound three important amino acids).  Chicken meat provides substantial quantities of all the essential B vitamins, such as niacin (B3), which are essential for having a healthy brain and for energy metabolism.
Taste description & background:
One of the most internationally known Nepali dishes, Nepali chicken curry has always been one of my regular most favourite home cooked meals, which I first had as a child at home: image to left is of me starting preparation of ingredients for the dish.
Home cooking is one of my passions, but this particular Nepali dish which I serve with boiled rice (bhat), dal, saag (spinach) and sometimes achar and with vegetable tarkari to accompany, has a special place in the story of my life.
It was the first dish I cooked for my partner Andy (pop music musician Andy Bennett, of Ocean Colour Scene fame, and an internationally renowned Western pop music vocalist) when we first met. Since that time, I have cooked Chicken curry for Andy regularly, he loves it and describes it as the most delicious South Asian meal he has ever had. He has also been, from the outset when I first made for him, devoted to Nepali lamb and chicken momos with spicy Nepali tomato pickle, and to Choila (a traditional Newari dish of barbequed meat with spices and spring onion, whose burst of flavour is a great combination of chili hot and spiciness).
Profiles: 
Rina Adhikari. Artist manager and wife of Andy Bennett.  Andy Bennett. Singer/songwriter: https://en.wikipedia.org/wiki/Andy_Bennett_(musician)
Quantity: Serves 2 people twice, or four people for one occasion.
Time taken on creating dish: to prepare and cook takes about 30 minutes.
---
Utensils:
Frying pan
Chopping board
Knives for ingredients preparation
---
Ingredients:
Chicken -1kg
Chopped onion, chopped tomatoes, 2 chillies, chopped coriander,
Lime, crushed garlic and ginger
1tea spoon turmeric, salt, coriander and cumin powder
---
Method: 
Place the pan on the hub and once the oil is hot incorporate the fennel seeds; let them go black then add some turmeric, and finally the diced chicken thigh until the meat is light brown. Put salt, coriander and cumin powder and stir it well, add the lime juice and let it cook for 4-5 minutes.
Then you add the chopped onion and then chopped tomatoes and stir well, leaving to cook for 5-8 minutes.  Once cooked add in the crushed garlic and ginger with a little water, stir well and let simmer for 10-12 min.  Finally, add chopped fresh coriander to garnish, and serve.
---
Accompaniments:
Bhat (boiled rice)
Dal (black lentil for preference)
Vegetable curry side dish – optional
Saag (boiled spinach) – optional
Pickle / achar – optional