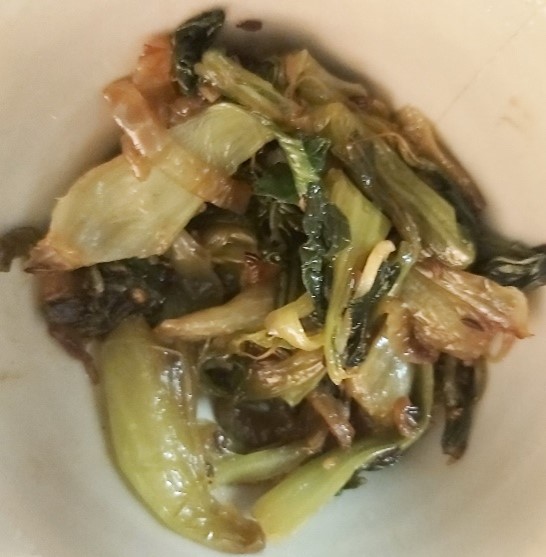 Main ingredient: these dish's main ingredient is Pak Choi.  Pak Choi (also known as Bok Choy) is a classic Chinese cuisine vegetable (two main dishes being, to use oyster or soy sauce for Chinese Pak Choi dishes) but at Nepali home cooking level is sometimes used (as with Deepak's dish described below). It is low in calories (this changes if too much cooking oil is not removed from the final stage dish), and contains a good supply of nutrients, and is said to be a vegetable which if consumed regularly, can help protect against cancer, ca assist on metabolism and digestion.  Pak Choi contains folate, which plays a major part in DNA repair and generation. It also contains vitamins C and E, beta-carotene, as well as selenium. 
Taste description & background:
This is a Nepali version of a classic Chinese vegetable dish. I first tried the dish towards the end of my time studying in Kathmandu, and have since refined it when I sometimes cook it for friends in the UK as a surprise. Pak Choi is a wonderful, cooling vegetable and this dish makes it supple yet retaining in part its crunchiness, which is part of its charm; the seasoning, fresh chopped ginger and stock make it delicious and a perfect accompaniment to a Nepali vegetarian or meat curry.
Quantity: Serves 2 people two times as a main dish, or four people as a side dish.
Time taken on creating dish: to prepare and cook takes about 15 minutes.
---
Utensils needed:
Saucepan
Frying pan
Chopping board
Spatula / wooden cooking spoon for sharing
Knives for ingredients preparation
---
Ingredients:
½ a kilo of pak choi
2 tablespoons of oil (sesame oil particularly appropriate, but extra virgin olive oil too is good)
A teaspoon of cumin
A teaspoon of coriander seeds
A teaspoon of fresh, finely chopped ginger
Salt — to taste
---
Method:
Clean/wash pak choi, then place in saucepan and gently cook in ½ a litre of water brought to the boil. Remove and put aside.
Heat oil in frying pan, and then add seasonings and sauté until oil turned light brown; then add pak choi, and stir and simmer for 3 – 4 minutes. Your pak choi Nepali style is ready.