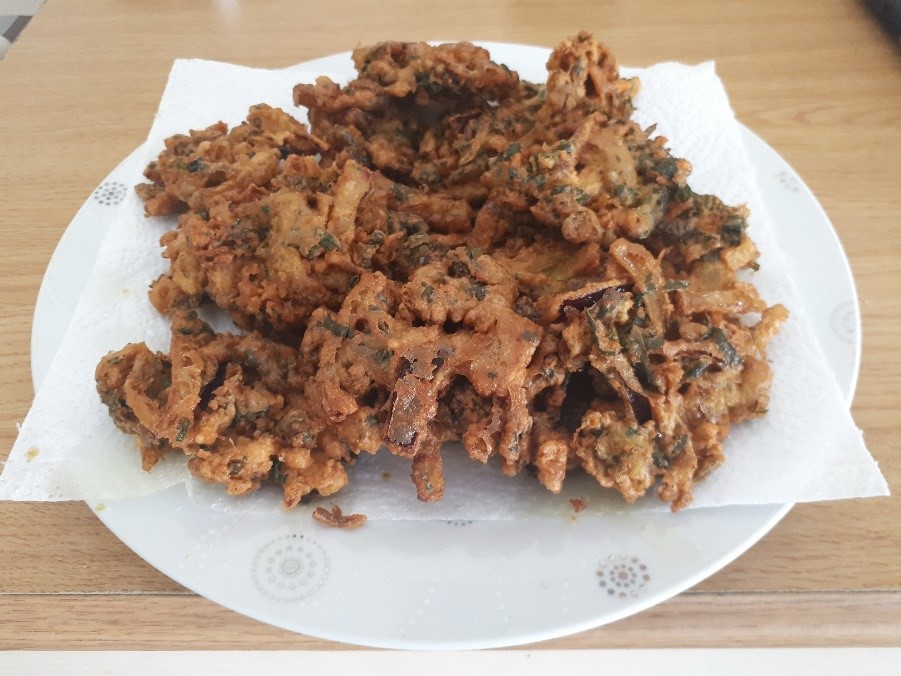 Main ingredient: onion and potato.  Onions have high protein quality, no fat, and are low in sodium: they are also a good source of fibre, vitamin C, calcium, and iron.  Potatoes are a major source of potassium (higher concentrations than in bananas) and vitamin C; they are cholesterol-free, and fat and sodium free, are carbohydrate-rich, and an excellent source of Vitamin C. 
---
Taste description & background:
In the West, pakaudas (pakoras) are along with onion bajis and samosas the most well-known Indian snacks. The Nepali pakauda is very similar but differs at a refined taste level due to some of the seasonings we use with the Nepali version. A really delicious savoury snack with a wonderful aromatic taste and spiciness, this home cooked Nepali food is particularly flavoursome when warm and freshly fried. I had first in Kathmandu, where after I learned the Nepali recipe; I have had in the UK and in Mumbai, but in both the taste is not quite as delicious as our Nepali version.
Quantity: Serves 2 people two times, or four people for one occasion.
Time taken on creating dish: to prepare and cook takes about 25 minutes.
---
Utensils needed:
Mixing bowl
Frying pan
Spatula / wooden cooking spoon for stirring
Chopping board
---
Ingredients:
½ a cup of Plain flour
½ a tablespoon of baking powder (optional)
2 small to medium size potatoes
A medium size brown onion
A cup of oil (add more if required)
¾ of a cup of water
½ a tablespoon of coriander
½ a tablespoon of cumin
1-2 fresh finely chopped birds eye chilies
---
Method:
Mix flour with water in a glass bowl, and combine to become a thick batter, then set aside for about 15 minutes. Then add the coriander, cumin, chili powder and some salt as well as the chopped chilis, to the batter, combining well. Then add sliced onions and [pre-boiled] potatoes – optional – and place and mix in the batter. Heat oil in the frying pan on a medium heat, and then dip the mixture in pieces (about the size of half your hand) into the batter, until light brown. Shake the pakora to remove excess oil, and place on kitchen paper to remove further oil; the pakora is now ready, and particularly delicious when warm.
Accompaniment:
Tomato sauce/Achar