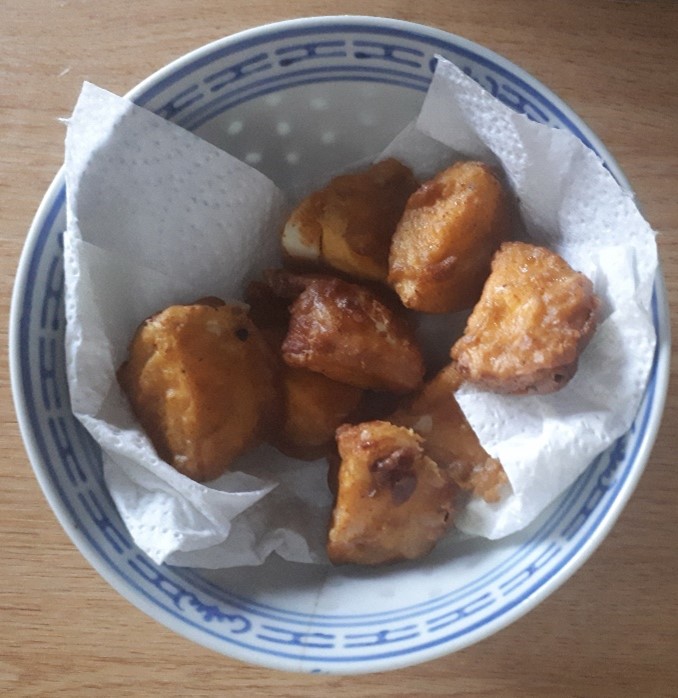 Main ingredient: egg (andar).  Eggs are a source of high-quality protein, riboflavin and selenium (mainly egg white), with highest concentrations of nutrients found in the yolk.  These include in particular vitamin D (eggs are one of the very few foods that contain this important vitamin naturally), which is beneficial for immune functioning and bone development and health.
---
Taste description & background:
This very delicious snack is nutritious and combines the taste of boiled egg (in quarters or halves) with a seasoned spicy exterior fried in the pan with seasoning of masala, cumin, chili powder with salt to taste; the turmeric and red chili powder giving a lovely colour. I first enjoyed fried spicy egg in my home in Dadeldhura as a young child, and have had many times since elsewhere in Nepal, particularly at festivals.
Preparation & Cooking time: about 25 minutes to prepare and cook.
Serves 6 (1 for each person as a snack)
---
Utensils:
Frying pan
Pan for boiling eggs
Spatula or wooden cooking spoon for stirring
Chopping board
Knives for preparing ingredients
---
Ingredients:
6 boiled eggs with their shells removed
About 2 tablespoons of cooking oil for frying
About ¼ of a teaspoon of cumin (Jeera) seeds
About ¼ of a teaspoon of Red chili powder (it is optional if you don't like it)
About ¼ of a teaspoon of masala
About a ¼ of a teaspoon of turmeric powder
2 cloves of a finely chopped garlic bulb
A ¼ of a teaspoon of salt – to taste
A ¼ of a teaspoon of black pepper (maric) – to taste
Some fresh chopped dhania (coriander) – to garnish
---
Method:
Boil eggs until hard (takes about 5 – 6 minutes), then leave the eggs to cool for a further 5 – 10 minutes, and cut into halves, or quarters.
Then place the egg pieces in the frying pan that has oil heated to high, and gently fry for about 8 minutes for the eggs on medium heat, gently turning the egg pieces from time to time in the oil that has had the seasonings and chopped garlic added to infuse so the full taste of the masala, chili (optional), cumin seeds (these should go in first) and garlic and a little salt to taste, blends to coat the egg pieces, that will develop an attractive golden exterior skin forming on their outsides.
Take from the pan after about 8 minutes once the eggs have turned golden all round. You can add some fresh chopped coriander to garnish if you wish. Present in a bowl where your guests can add more salt if they wish.