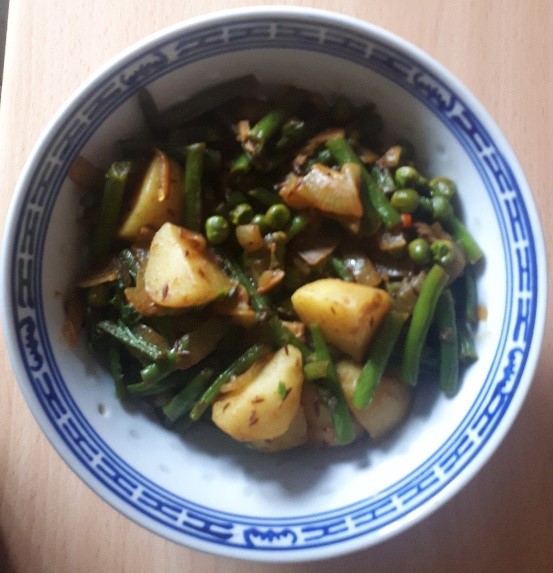 Main ingredient: This dish has two main ingredients: French green beans and potato.  Beans (Simee) are cholesterol-free, fat-free, and sodium free, and are major sources of manganese, copper, magnesium, phosphorus, and especially potassium (which promotes good blood pressure).
Potatoes (aloo) are a major source of potassium (higher concentrations than in bananas) and vitamin C; they are cholesterol-free, and fat and sodium free, are carbohydrate-rich, and an excellent source of vitamin C. When prepared in healthy ways (minimal to no oil basting or frying) and moderate quantities, they are said to not be harmful to weight loss regimes.
Peas (kherau) are optional as the third main ingredient*: Peas are a good source of protein, vitamin A, riboflavin, niacin, vitamin B6, folate, magnesium, phosphorus, manganese, copper and vitamin C, vitamin K, thiamine, and are very low in saturated fat, sodium, and cholesterol.
---
Taste description & background:
This tasty vegetarian dish will not be found in Nepal's ancient cooking repertoire, but is highly popular in contemporary times home cooking: bringing the cooling taste of French beans together with that of potato ranks as a major innovative discovery. This because the discovery of the use of French beans has been much more recent, and found to be absolutely delicious seasoned and combined with spicy potato. It is a good example of a hybrid dish, demonstrating Nepali home cooking as not static, but innovative (the most famous examples of Nepali cuisine innovation being perhaps the much better known Momos, and the less well known outside of Nepal, Tibetan Noodle Soup, Nepali version known as Thukpa).
Quantity: Serves 2 people two times, or four people for one occasion.
Time taken on creating dish: to prepare and cook takes about 40 minutes.
---
Utensils:
Chopping board
Knives
Frying pan
Spatula / wooden cooking spoon Top of Form
---
Ingredients:
1 tbsp vegetable oil
1/4 tsp fenugreek seeds
1 small to medium sized onion, thinly sliced
2 chopped cloves of garlic
1/4 tsp ground turmeric
12th teaspoon of asafoetida (optional)
1 pound green [French] beans, trimmed (and cut into 1 inch pieces if desired)
2 medium size potato, cut into cubes
About 1/3rd of a cup of peas* (best from frozen for freshness) – optional
1 tsp minced fresh ginger
1/2 tsp ground cumin
1/4 tsp salt
1/8 tsp black pepper
---
Method:
Heat oil in a saucepan at a medium to high setting. You Add fenugreek seeds and fry until dark brown and highly fragrant, about 5-10 seconds. Add the onion, garlic, turmeric; cook and stir gently but regularly for about 3-4 minutes and then incorporate the onion pieces.
When these have softened you are ready for the next stage. You then add the main ingredients the French beans, potatoes, followed by the seasonings of ginger, cumin, salt and a little black pepper, combining with a 1/4 of a cup of water, combining all thoroughly: you can add some peas* (optional) too towards the end of this stage of cooking.
You then lower the heat to medium, cover, and let simmer giving an occasional stir: the potatoes and beans mustn't stick to the pan. You can add a little more water if required or preferred. Let simmer, until all the liquid has evaporated (takes about 15 minutes): your dish is now ready.