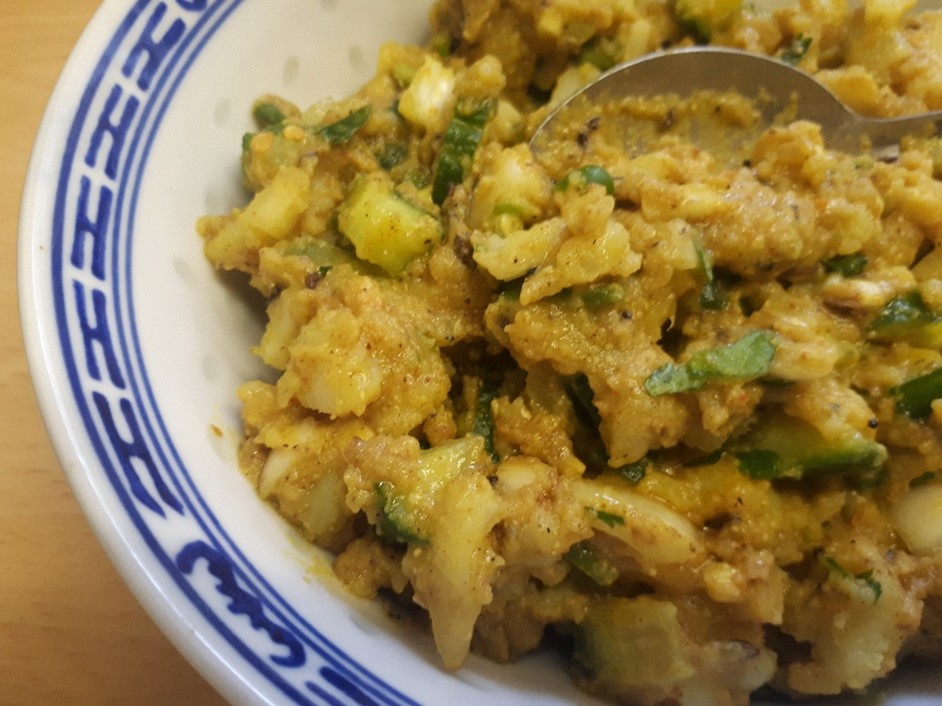 Main Ingredients: The dish's main ingredients are cucumber and potato.
Cucumbers are a type of fruit and a good source of phytonutrients. Phyto nutrients are chemicals found in plants that have disease preventative and protective properties. In the case of cucumber, the phytonutrients are lignans, flavonoids, and triterpenes, which are antioxidants, and have anti-inflammatory effects, and are said to have anticancer benefits.
Potatoes are a major source of potassium (higher concentrations than in bananas) and vitamin C; they are cholesterol-free, and fat and sodium free, are carbohydrate-rich, and an excellent source of vitamin C. When prepared in healthy ways (minimal to no oil basting or frying) and moderate quantities, they are said to not be harmful to weight loss regimes.
---
Taste description & background:
A classic side dish with crisp clean tastes through the potato & cucumber combination, and because it is served cold to accompany a main dish. I learned how to cook Kakoo ra Aloo ko Achar when I settled in the capital, at a friend's home, and have since experimented with quantities of ingredients to suit different preferences on the mildness to sharpness scale; most, as with myself prefer this side dish in its sharper form as it makes a perfect accompaniment to vegetable and meat curries and other main courses.
Quantity: Serves 2 people two times, or four people for one occasion.
Time taken on creating dish: to prepare and cook takes about 20 – 25 minutes.
---
Utensils:
Frying pan
Bowls for mixing
Chopping board
Knives,
Spatula / wooden cooking spoon for stirring
---
Ingredients:
Diced freshly boiled, firm consistency potatoes
Diced fresh cucumber
Chopped brown onion
Finely chopped fresh ginger
Finely sliced green birds eye chili
Fresh, finely chopped garlic
Chopped tomatoes (optional)
Salt to taste
Oil (vegetable or extra virgin)
White sesame seeds
Fenugreek seeds (methi)
Turmeric powder
Fresh lemon
---
Method:
Boil (not too soft/keep firm but not too hard) and then peel potatoes, cutting into cubes.
Chop cucumber (the moist heart and seeds removed first) into cubes. Slice fresh chili finely, then
toast sesame seeds (white/brown/black) in a pan and grind to powder. After this combine potatoes, cucumber and green chili in a bowl, and, finally add salt, garlic ginger, fenugreek, and sesame seed powder. Delicious eaten cold as well as warm.