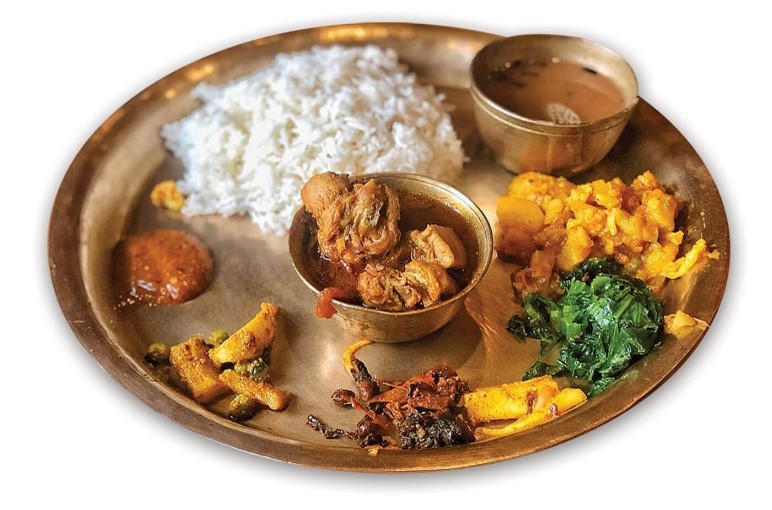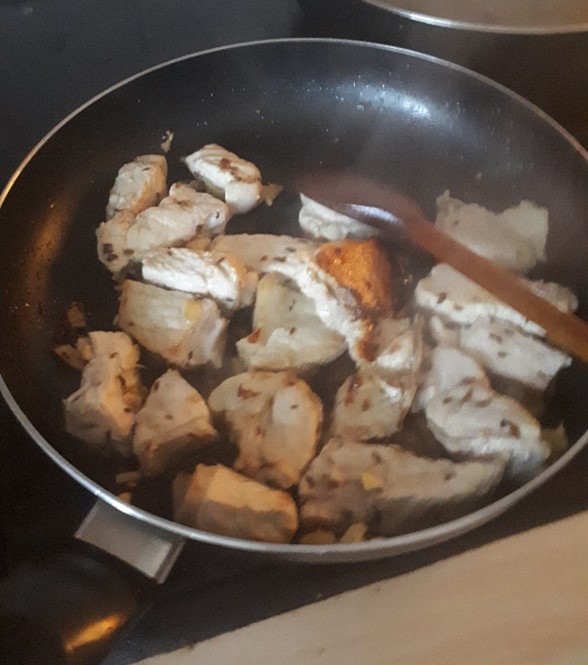 Main ingredient: the dish's main ingredient is chicken. Chicken provides much greater protein density than red meats and is a good source of creatine (this is produced naturally by the human body and is a compound three important amino acids). Chicken meat provides substantial quantities of all the essential B vitamins, such as niacin (B3), which are essential for having a healthy brain and for energy metabolism.
---
Taste description & background:
This is a classic Nepali main course, and eaten with boiled rice and with other accompaniments: I learned how to make the dish from my mother in the family home when young, and have since learned how others make the dish, with variants on amounts and in some cases, types, of seasonings and spices. Unlike most Western chicken dishes, we find it important to include the bone (not essential though) to give additional savour to this delicious meal which is characterised by the meat being suffused by the seasonings. Again as with most other main courses that have multiple components, the hand (thumb and fingers) is commonly used to blend together meat and vegetable ingredients, and a touch of delicious spiced achar/pickle before eating.
Quantity: Serves 2 people twice, or four people for one occasion.
Time taken on creating dish: to prepare and cook takes about 35 to 40 minutes.
---
Utensils:
Frying pan
Chopping board
Knives
---
Ingredients:
A kg of chicken (from a whole chicken, cut into medium size pieces)
4 tbsp of oil (vegetable, or extra virgin olive oil)
1 large brown onion, finely diced
5-6 garlic cloves — finely diced
A tbsp of fresh ginger, finely grated
2 medium-size tomatoes, chopped
A tsp of turmeric
A tbsp cumin powder
A tbsp coriander (Dhania) powder
A tsp of chili powder
4 Cloves
2.5 cm of Cinnamon (Dalchini) stick
A tsp Cumin (Jeera) seeds
A pinch of Salt — to taste
Some chopped fresh Coriander (Dhania) leaves or Cilantro to garnish
---
Method:
We use a whole chicken cut into medium size pieces (including bone: this is regarded as very popular in Nepal because of its extra concentration of flavour: you can though just use the chicken meat with the bones removed)
Heat the oil in a pan, then add the cumin seeds, cloves, cardamom, cinnamon and bay leaf and fry for about 15-20 secs. Add the chopped onions and fry the onions until they soften and become light brown till, then include garlic and ginger and fry for a further 4 – 5 minutes.
Then add the chicken pieces and fry until they become lightly browned, then add the chopped tomatoes, turmeric powder, chilli powder, cumin powder, coriander powder and salt and mix well with the chicken. Fry for 3-5 mins, then lower the heat and cover the pan and cook for 10 mins. No need to add water at this stage as the chicken and tomatoes will leave water.
When the chicken is tender, and the oil starts separating from the gravy you add about 250 ml (you can vary this with a little less or more depending on how strong you wish your stock to be) of water. Then let the chicken simmer for 10-15 mins. Finally, add freshly chopped coriander to garnish.
---
Accompaniments:
Main accompaniment: boiled rice
Dal
Vegetable curry side dish
Saag (boiled spinach)
Pickled vegetables / achar