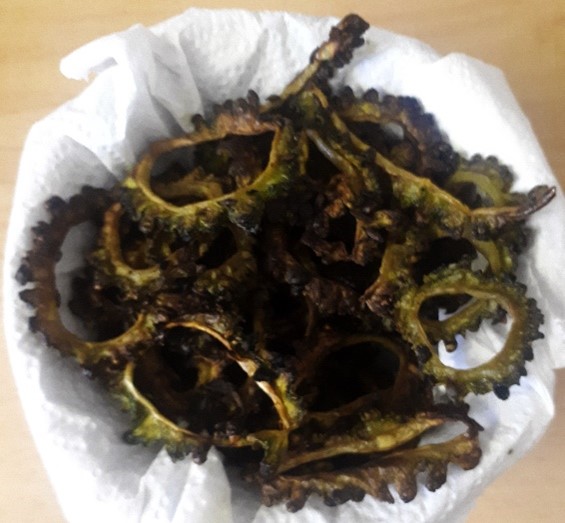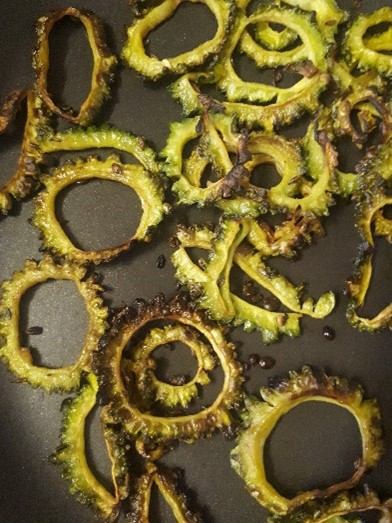 Main ingredient: the dish's main ingredient, is Bitter Gourd (or Bitter Melon), better known as Kerala which is closely related to cucumber, pumpkin, zucchini. It is particularly rich in vitamin C, vitamin A, provides folate, and has traces of iron, zinc, and potassium.  It also contains some important acids such as catechin, epicatechin, and chlorogenic acid, and gallic acid.
The Nepal-Indian Kerala, has a naturally bitter taste (hence the English name), and is quite narrow (like a cross between a courgette and a cucumber) and thickest in the middle, with spikes and pointed ends, and is a staple vegetable in many Asian cuisines.
Taste description & background:
The delicious Nepali Fried Kerala dish was learned from my father. Once fried the natural bitter taste of the Kerala transforms into a predominantly smoky, nutty flavour of a strong clean kind, going in the cooking process from green hue to dark brown and complete when a crunchy texture on the outside is reached. Perfect as a dish on its own, or as a side dish to complement a main course.
Quantity: Serves 2 people two times, or four people for one occasion.
Time taken on creating dish: to prepare and cook takes about 15 minutes
Utensils:
Frying Pan, Spatula (wooden stirring spoon), and Chopping board.
Ingredients:
Fresh Bitter Gourd (Kerala) – 5 to 6 small, or 3 to 4 medium to large
Oil- 3 tablespoons
Red or green Birds Eye chili (1 or 2 whole) – finely chopped, with seeds retained
Cumin seeds and/or coriander powder- 1/2 tablespoon
Salt- to taste
Method:
You cut the fresh Kerala into circular slices (2-3 mm) and take out the seeds and inside flesh. Heat the pan, and when hot (cooker medium heat setting) add the oil, then add cumin, and fresh finely diced chili (sometimes masala is added once the Kerala is starting to fry). Then once the ingredients and oil start to brown add the Kerala slices (the juice from the Kerala helps unify all the ingredients) and stir gently. When complete the Kerala will be quite crisp.